IEC - Products Detail Guest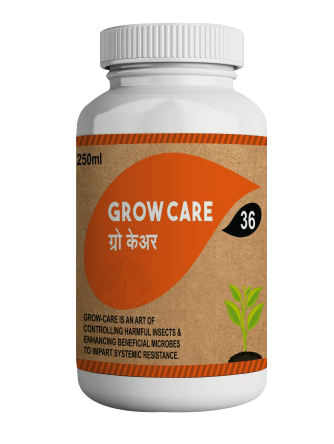 GROW CARE
IEC's Grow Care is a Plant Protection Formulation consisting of Plant Extracts (Neem, Chilli, Ginger and Garlic) along with Bio-available Organic Sulphur with Micronutrients (Fe, Zn, Mn, Cu and B). This formulation offers a cocktail for plant protection as well as offering a nutritive and growth boost at the time of such a Biotic Stress.
Benefits
•
As a unique
Pest Prevention Agent and Micronutrient Supplement
Grow Care
can be an essential
Preventive Application Against Insects
.
•
Grow Care
is also a
Quick Stress Relaxing Agent
after biotic attack.
•
Grow Care r
epels
and combats various pests
by its Strong Odor and its Detrimental Impact to Insect Body on Contact
•
The presence of Elemental Sulfur in Bio-available form makes it an
Effective Fungicide
in preventive application and also in
Avoiding Fungal Growths in Physical Injuries on Plant
parts
•
Releases the micronutrients in chelated form which gives
Long Lasting Metabolic Support
to the plants.