IEC - Products Detail Guest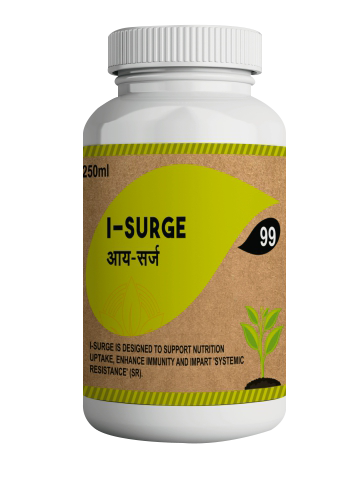 I-SURGE
I-Surge is a Nutritive Formulation specially designed by IEC to augment a healthy life cycle of plants to compliment the enriched ecosystem established by IEC Technology.
The key constituents of I-Surge are Mineral salts of Fe, Bo, Cu, Zn and Mn, with Humic acid, Phosphorus and Sulphur in aqueous chelating agents of organic origin, therefore, it also acts as a Nutritive Supplement and affects Nutrient Uptake.
Benefits
I-Surge stimulates the roots and to actively assist in the uptake of nutrients proportional to the needs of the plant, in contrast to the uptake of whichever nutrient is surplus.
I-Surge Activates, Boosts and Guides the Local Beneficial Microorganisms in the Soil so as to not only improve plant performance but also positively affect soil performance and sustainability.
I-Surge has application in Growth Promotion.
I-Surge also improves Soil Borne Disease Management.