IEC - Products Detail Guest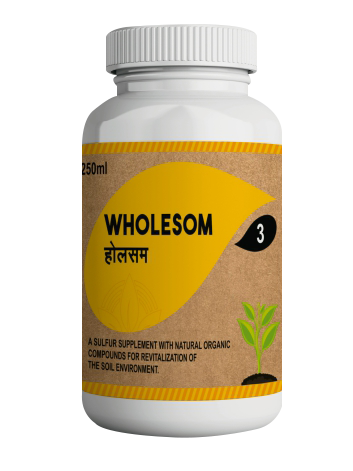 WHOLESOME
IEC's Wholesom is a proprietary formulation of Organic Sulphur, made by binding Elemental sulphur a proprietary combination of aqueous chelating agents of organic origin, ascertaining an Organically Available form of sulphur.
Benefits
•
Nitrogen Modulator
(Unique Application in its contribution to modulation of Nitrogen Cycle),
•
An
Agent for Enhancing and Retaining Flowering
•
An excellent
pH regulator,
Wholesom
Improves Disease Resistance, Pest Resistance and Increases Nutrient Availability
•
As an insecticide, it is an
Outstanding solution for red mite, broad mite and aphid control.
•
Increasing Oil Synthesis and Storage
in Oil Seeds
Favourable for foliar applications too. Our Sulphur shall never cause scorching*.